Posts tagged
whole 30
12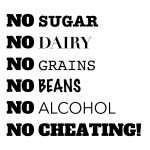 Fall is around the corner and the change of season is a good time to make healthy changes in your life, like taking on the Whole 30 challenge. If you want to look into the Whole 30 approach, Melissa over at The Clothes Make the Girl compiled some great resources: Whole 30 Resources Roundup. I also found a Pinterest Board to help get you set up doing Whole 30: Whole30 Approved – Food.  
And of course you can always visit my Paleo & CrossFit Resources page for even more information and inspiration!
Read This
Watch This
I'm loving this guy's voice: Sam Smith – I'm Not The Only One
Workout
Boxing – I was not really feeling it today, so my calorie burn was a bit down but at the end I did some stretching, so my calorie burn was around 800 total.