Posts tagged
wounded warrior
0
I feel better this morning. Rest days can do wonders for your body. Don't ever underestimate how important rest days are in your overall fitness plan. I am not talking about sitting around doing nothing and eating crap. Just that you don't do a hard core workout –do some mobility, yoga, a run, just not something to taxing on your body. It needs time to renew and repair so you can get stronger.  Want some mobility ideas? Visit MobilityWOD.com.

Also I found this really good How to Foam Roll Infographic. Foam Rollers are super great and go along with using a LAX Ball! 
WORKING WOUNDED GAMES Nov 10 2012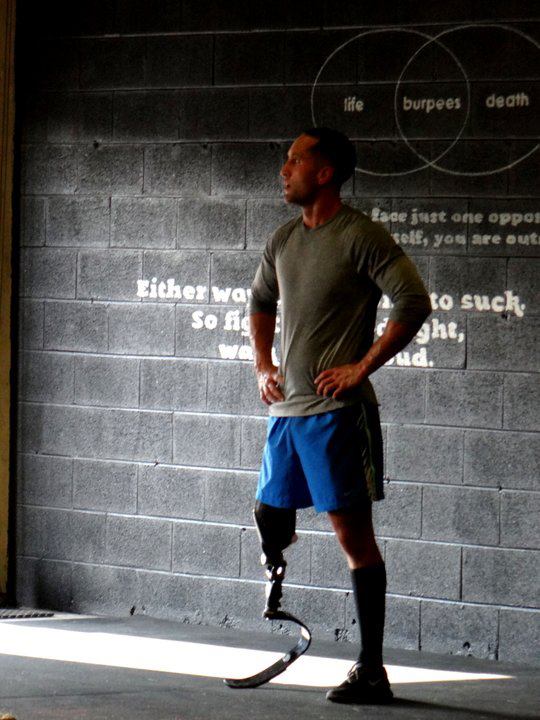 The first CrossFit competition designed for amputees and severely wounded veterans.
A great event where you will definitely get Inspired and you can lend your support for the Working Wounded Games on 11/10 –  at CrossFit Rubicon in Tysons Corner, VA.
Plan to attend or offer your monetary support to help keep programs like this up and running.  I will be there cheering them all on!

This photo was taken by me at CrossFit Rubicon. CF Rubicon has taken the lead and created a program specifically geared towards amputees called Real World Six that centers around sport and community. I have seen some of these athletes at work and there are no words for how inspired you feel once you see how bad ass they are.
Show your support if you can! It's Games and programs like this that really make CrossFit special and different from the other guys.
Warmup
800m run
2x
2 handstand walks into a bear crawl
10 pass thrus
mobility
Skill
WOD
3-3-3-3-3-3
Push Press
105# – Stayed away from max # bc of tweaked neck/shoulder area.
then
Tabata Sit Ups 
14,14,13,13,13,13,13,12
0
Finding Your Fitness Inspiration
Today, I am not going to lie has already started out to be tough. I think its mostly due to dehydration over the weekend, but my body is wrecked. Very sore and just no energy at all.  I did not drink enough water during the PDR workshop this weekend and it was hotter than Hades in there. No one in that gym was not sweating their ass off! Two days straight and then we did some drills and practiced some self defense movements. It certainly has taken its toll on me.
So when the alarm went off this morning, I hit snooze for an extra glorious nine minutes but then got up. I should have listened to my body and stayed in bed. The workout was tougher than usual for me. Why don't I listen to my inner voice sometimes — because now that I am home, I feel myself starting to feel worse and my stomach has not been kind.
This weekend, at the Tony Blauer workshop, I was able to take some pics of the amazing athletes at Rubicon who did 31Heroes to honor the fallen heroes killed in action August 6, 2011.  Rubicon has a program called the  Six and they work with Wounded Warriors that have been wounded. It's amazing to meet and watch these guys workout. I was able to talk and meet some of these inspiring guys and let me just say to watch them workout — and not be dragged down by their situation — it's a great story for all of us to learn from. We can do it if we want it bad enough!
When you see people who have been in a tough situation but have the strength and determination to not be dragged down by it, it's almost impossible to not be motivated and inspired. Meeting people from around the CrossFit community regularly helps me recommit and get re-inspired to my own journey. I am human, and sometimes I wish I was one of "those people" that can eat whatever they want, go to the Gold's gym and do some minimal fitness routine and look fabulous. But the reality is –that's not the cards I was dealt and the older I get, the more I am reminded of that. I can sit and wallow and use it as an excuse, or I can work harder, focus more to get to where I want.  There is no such thing as too old, too out of shape, too late. 
And the reality is you may have to find things each day, week, month, year to reignite you and help with your commitment. Whatever works to get the job done is what you have to do if you really want it!
If you get a chance, check out my photo album from the 31 Heroes workout. There are some amazing pics in there!
Warmup
600m jog
Bear Crawl
Crab walk
Frogger Jumps
High Knees
Skill
KB Swings
WOD
5 RFT
40 Double Unders
30 Squats
20 KB Swings
time: 16:51 
0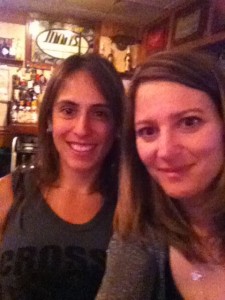 I had already decided that today was going to be a forced Rest Day – even though a part of me totally wanted to challenge myself with the workout today. But I got home late and had a great night last night — headed to Jimmy's in Herndon to guest bartend and hang out with our fellow athletes to raise money for the Wounded Warrior Project. We raised $600 selling raffle tickets for tshirts, memberships and talking about the great cause. A great time and great group of people.
This morning, ESPN sports center was on the tv and they showed a clip of Football players training waiting for the lockout to run its course. The players were doing exactly the same training we do at CrossFit. Med balls being thrown to the ground (woodchops), ropes being waved, running ladders, pulling sleds (although they were pulling the big tires).  Think about it – I am doing the same training that professional Football players are doing – how cool is that? Am I ready for the NFL — hell no.
So – not everything is coming up roses. The last 2 days I have totally been slipping in my focused Paleo eating and I can feel it. I have eaten pure junk food, which is totally not like me. I'm not sure if its all the stress that I have been under or what — but eating MM's out of the bag is not a good thing after all the work I have done. I am not going to beat myself up about it. It happens, acknowledge it, and get back on track.
Tomorrow, I am helping oute at YouthFest 2011 at the Brambleton Town Center 3p-7p in Ashburn VA . The event features local youth bands and performers, attractions, interactive exhibits, food and more. Created and run by teens. The CFI folks want to promote their CrossFit Impavidus KIDS/TEENs program and will be holding an interactive demo at 4P. Should be fun to talk about CrossFit and meet some local teens!