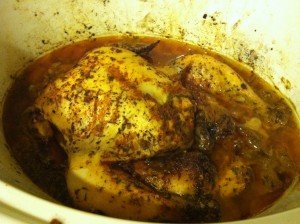 I tried this recipe last week and to say it was Delicious is not giving it enough credit.  I found it at the Civilized Caveman website and it fits in perfectly with a "paleo" eating plan.
Buy a 4-5lb chicken
Clean it
Pat it dry
Cut up some onions
Line the bottom of a crockpot with the onions
Mix up a bunch of spices
2 Tsp Paprika
1 Tsp Sea Salt
1 Tsp Onion Powder
1 Tsp Dried Thyme
1 Tsp White Pepper
1 Tsp Cayenne
1/2 Tsp Garlic Powder
1/2 Tsp Black Pepper
Smother the chicken with the spice mix —all over.
Set your crockpot for 6 hours on LOW — voila!
(No broth needed either — I know, I was surprised about that too!)