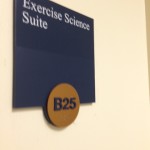 I mentioned that last week I visited the GWU Weight Management and Human Performance Lab to check out the lab and get some tests done so I can really figure out what the key is that will help get me where I want to be.
Todd Miller who runs the lab and is an Associate Professor in the Department of Exercise Science and was kind enough to offer me some testing so I can share my experiences with anyone interested in experiencing the lab.
Todd ran me through a series of tests and then we sat down, reviewed the results and discussed ways to get me where I want to be.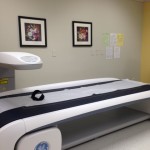 First, he measured my height and weighed me and then had me stand on a the Body Composition – BIA machine that measured my weight, body fat etc using electromagnetic pressure contact, not unlike the scales and other machines readily available. Then we used the Dexa machine…
Body Composition – Dexa (or DXA) -The gold standard for body composition assessment. The DXA scan uses a low-dose x-ray (approximately 1/10th the radiation of a traditional chest x-ray) and provides information about bone mineral density, fat, and fat-free mass in to specific regions of the body with an accuracy of ±2%.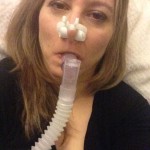 After that test was complete, which took maybe five or so minutes, it was time to test my Resting Metabolic Rate – The resting metabolic rate (RMR) is the amount of energy (calories) a body burns while at rest, which accounts for approximately 70% of the body's daily energy expenditure. This is the amount of energy needed to perform vital body functions such as respiration and circulation.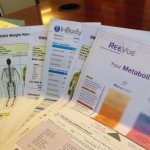 After the testing was done, Todd and I talked through the results.  I gained some weight in the last year and half. It was as much as I had thought – so while that's not great news per se, it wasn't shocking and it confirmed my own sense of where I am. The good news… all the fitness I do – does make a difference whether I am at an optimal weight or body fat %.  I am fit — and the weight i gained, once I lose it – I should be in the 'good' categories all around.
Bone density is good.
My RMR is high. That means I burn a lot of calories just being.
I have a good amount of lean muscle mass.
I'm not going to discuss my actual numbers here – they are irrelevant to anyone but me. What I will share is that we talked about how much protein I need based on my lean muscle mass and what would be my optimal amount of calories to get me back to where I will feel most comfortable. The thing is my goal isn't about being super lean. I want to feel comfortable in my own skin without being crazy about every little thing I eat or drink. I did that years ago – and it consumed my life. My goal is to be healthy and fit – not an Olympian or champion competitor. I am living this way so I am able to move, have fun, try new things and age without the fear of being immobile. That is what I discussed with Todd – he made some suggestions on what would be a reasonable caloric and protein intake per day to get me there.  As for exercise, I clearly don't need help in that area. I am fit!
The one thing that caught me off guard is how much protein Todd suggested I eat per day: 146g  He based it on how much lean body mass I have. I am not sure how one goes about eating that much protein in a day but i have been trying without upping my overall suggested caloric intake. It's been quite a challenge – the closest I have gotten is 96g.
I have also begun to track my fitness and food intake using fatsecret.com. Todd sent me an invite and he can monitor what I am eating from time to time to give me advice. Check it out –so far I am liking it.
One of things that has always confused me is why is it so hard? Todd explained that most of it is simple math – which is not hard but it is hard to put into place. Knowing that there is science and data behind what we discussed helped me leave the lab with a sense of an actual plan to get me back to where I will feel comfortable. Before that, i have just guessed at where I am and how much I need to eat. With Dr Miller's suggestions, I feel confident about being able to do it.
Protein Intake – How Much Protein Should You Eat Per Day?
I will keep you posted on my overall progress – the good and bad of it as we head into Spring and Summer.