A few months ago, my tween daughter told me about a beauty subscription service called Ipsy. 
With infinite beauty product combinations in the marketplace, choosing the best items for your needs can be a challenge! 
Each month, subscribers will receive a beautiful Glam Bag with deluxe samples and full-sized beauty products. Members can watch and play along with the stylists with the same products that they are using. All for only $10 a month.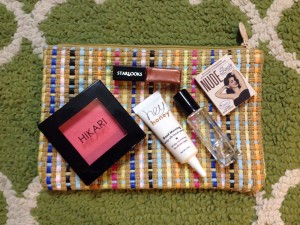 I'm not a huge makeup wearer or someone who likes to experiment with daily different looks but I do like trying new stuff and staying current on trends when possible. And I also think getting a monthly package of beauty stuff in the mail monthly is fun. HB likes it I have given her some of the goodies that came in the Glam Bag. That's the other thing – the samples and products come in a cute little 'glam bag' that can be reused.
The other thing I thought was cool was that the products are customized for you to some extent. You take a short survey when you create your account and based on your answers, you are put into certain style categories. They can be changed anytime online but when your glam bag arrives, many of the products are included based on your category.
It's been 3 months now and for the most part I have been pretty happy with the products I have received. The June glam bag was a bit of a disappointment in that the products were mostly sample sizes and nothing really had a 'WOW' factor to it.
Would I recommend a Monthly Beauty Subscription Service like Ipsy? 
I have actually gone out and purchased at least one of the products sent to me because I liked it so much  – so it has definitely been worth it for me. In my mind, for 10 bucks a month, it's a nice little monthly package of fun beauty products to treat your self to. If you have a tween/teen daughter or adult daughter who is into wearing makeup and trying new beauty products on the regular, it's a fun gift idea!
There are a few beauty subscription services like Ipsy out there. I am sure each has pros and cons and appear to be available for around the same price and offer the same sort of products, so do your research and see which one best suits your needs!