Happy Birthday to Me!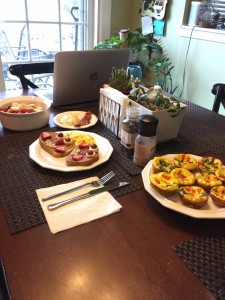 Last week was my birthday. It was an awesome day that started off with a good 530A workout. I try to always exercise on the big day as a way to thank my body for hanging in there. Of course, I took a nap when I got home because waking up before 5a is just not OK. I woke up to a wonderful homemade breakfast. HB made me a feast fit for the health conscious queen that I am, including gluten free toast with an owl design made out of fruit. It was awesome and yummy.
In the evening, my friend Mandy invited me to go into DC and check out a panel discussing Behind the Scenes of the Walking Dead. And yes,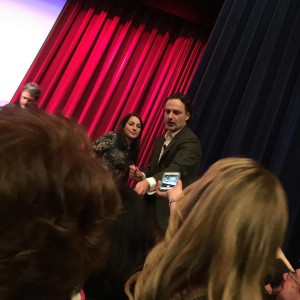 Andrew Lincoln was there!  It was really awesome to hear more about how the show is made —Greg Nicotero, executive producer, director, and special effects makeup supervisor talked about the process to create the zombies. It was clear listening to him how much he was born to do what he does. It fascinates me to listen to people who from an early age found something they are passionate about and get to do that thing every day as a career.
The next evening, Scotty and I enjoyed a steak dinner at DC Prime. It was so amazingly delicious and we came home to cut into my yearly Carvel Birthday cake with the kiddos.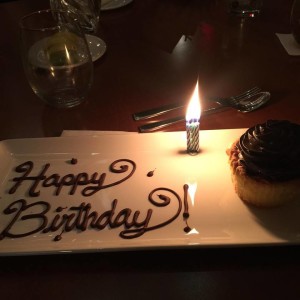 It was a lovely weekend that ended with a super bowl party over at a friends house with friends that have been in my life for over 20 years.  Coincidentally, this past weekend I came across this article: 'I have lived over half of my life' : Writer Miranda Sawyer on the quiet desperation of a midlife crisis.  I had never thought about my age in this way, but thanks to this writer, I have spent more time than I care to admit thinking about it.  It's scary in some ways – to think that half of my life has been lived but on the other hand, I have had a ton of great experiences and lessons and it has led me to the life I lead now – which is pretty damn good. (see birthday weekend as an example.) She makes some good observations that I can certainly relate to although not necessarily because I agree or it's been my own personal experience.
It also speaks to something that has been on my mind – quite a few of my friends are splitting up. They are separating, divorcing, up and moving across the country – doing some reflecting on where they are in their lives and deciding it's not where they want to be anymore. For some, it was a long time coming and best for everyone involved. For others, it hit them like a sucker punch. They were not ready for the life shock that hit them – and are now trying to recover. There is something about hitting middle age. We are not the same people that we were in our twenties (at least I hope we are not), and the things that some people chose during their younger years are not the right things for who they are now.  There is no right/wrong about it – even though I know it happens, it still causes a bit of a pit in my stomach.
Watch This (and Laugh)
Hansel and Zoolander Talk Politics (and Fashion) on SNL
Be Inspired