0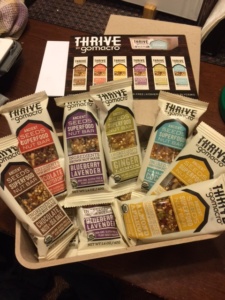 I was recently sent a box of GoMacro's newest bar — Thrive, a plant-based nutrition bar, which should be available at Whole Foods now. I've shared info in a previous post about GoMacro -so I knew I liked their bars, but I was interested in trying these bars because they use plant-based protein which I prefer because of my dairy sensitivities.
The GoMacro Thrive is available in six flavors that contain plant-based protein, essential fatty acids and prebiotic fiber to fuel your body and mind. 
GoMacro is a pretty cool company too. As I mentioned in my earlier postthese bars are made with quality ingredients and taste good.  The company is family owned and cause driven.  These bards are great if you are on the go and want a healthy snack that has protein!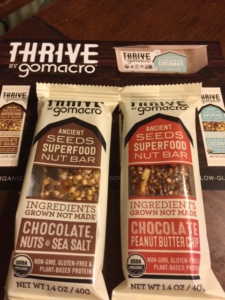 Thrive bars are USDA Organic, Gluten Free, Soy Free, Kosher, Vegan and Low Glycemic and delicious. So far, my favorites are the ones that include chocolate! (no surprise)
Chocolate, Nuts & Sea Salt
Chocolate Peanut Butter Chip
All of their bars are under 200 calories with 7g of protein. In addition to the two flavors above they offer:
Almond Apricot
Blueberry Lavender
Ginger Lemon
Caramel Coconut
They were all good, although I am not a huge fan of Ginger or Lavender in general, so those were not my favorite. So, with that said, I heartily recommend giving these bars a try!
Keep in mind, whole fresh food should always be a first choice – but we all need to live in reality and recognize it's not always possible situation-ally or time wise to eat that way. We have to be realistic and fluid enough to accommodate life. So, my advice is to always make the best choice with what you have available. These bars are not perfect –they do contain sugar (although natural coconut sugar and brown rice syrup) – but compared to some other bars on the market, they are a better choice.
Get 30% off GoMacro: Thrive bars!
And because the people at GoMacro are so kind, they are offering a one-time-use coupon code (Thrive30) for 30% off to my readers to buy Thrive bars at gomacro.com
Disclosure: Although GoMacro provided me with samples, all thoughts and opinions expressed are my own and not influenced by the brand or company.